Glad you are joining us!
We have experience and perspective to offer.
You'll find community and support from the Office of Academic Advising and other campus services.
Trained Student Advisers who have successfully maneuvered the transfer credit process are assigned to you.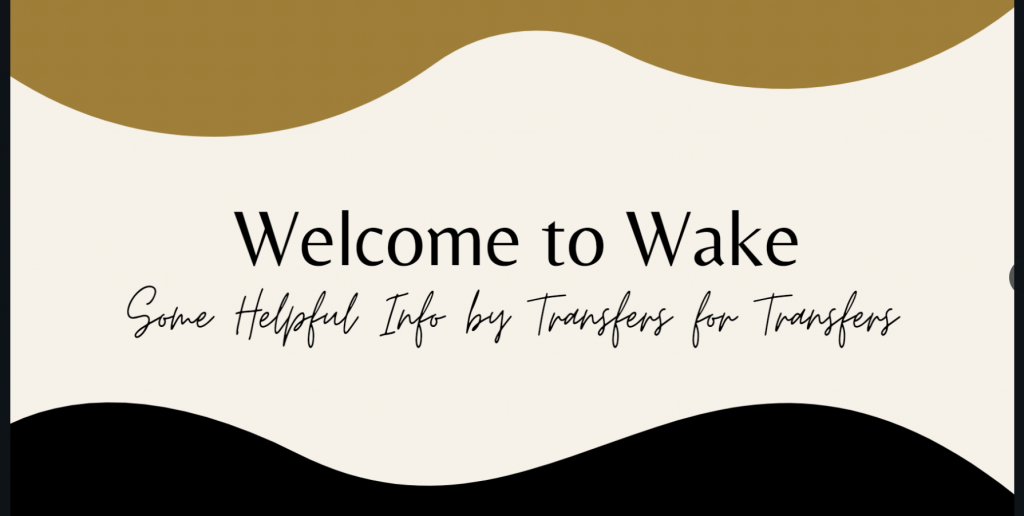 Canva Presentation – Guide for Transfers
---
Testimonials…
Natalia Drobnjak, WFU Junior
Jessica Jordan, WFU Senior
---
FREQUENTLY ASKED QUESTIONS
Every incoming first-year or transfer student will be assigned a lower-division adviser (a faculty or staff member), along with student adviser. Student advisers are continuing students who have been successful throughout their first year(s) of college and wish to share their knowledge with incoming students. Incoming students will receive support and outreach from their lower-division and student advisers within the first semester to ensure that they are adjusting to campus life at Wake Forest.
Once a student declares a major, s/he will be assigned to an academic adviser within that department.
Students must meet with their advisers each semester to discuss the current term, future course selection, and obtain their PIN for registration. We encourage all students to meet with their assigned advisers throughout the year for academic advice or concerns and for everyday guidance in navigating college.
After transfer students are admitted to Wake Forest, they will work with the Registrar's Office to submit previous university coursework for transfer credit. To prepare for this process, students should collect all syllabi from previous semesters. Please see departmental policies regarding transfer credit.
Transfer students must earn at least 60 hours at Wake Forest, and no grade below a C can be transferred for academic credit. More details can be found at https://registrar.wfu.edu/transfer-credit-portal/transfer-student-information/
Unlike incoming first year students, transfer students register for their first semester of courses with the help of an academic counselor from the Office of Academic Advising. This is a benefit of being a transfer – you do not have to self-register via the portal with every other first year. This process typically occurs in June for fall admissions, and in December/January for the spring. Registration is dependent on each student's transfer credit evaluations, so submit all records, transcripts, syllabi from previous institutions early.