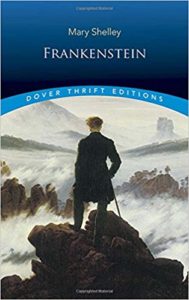 What does it mean to be human? What role does sympathy play in a good life? How can literature influence how we think about character, politics, philosophy, science, and law? These questions are at the heart of Frankenstein, which grapples with fundamental questions about virtue and equality, examines why we can become "monsters," and highlights, with great intrigue and gripping detail, how character can be formed (or de-formed) by society. Far from its caricature as Hollywood horror, this classic novel will prompt searching reflection and conversation on character, and since this year marks its 200th anniversary, it's a wonderful time to explore Mary Shelley's masterpiece.
Discussion Leader:  Michael Lamb
I am University Scholar in Residence at Wake Forest and Fellow in the Office of Personal and Career Development. I teach courses in Politics and am helping to develop a new program in leadership and character. I am also a Faculty Fellow in Babcock and am teaching a new First-Year Seminar this fall on "Commencing Character: How Should We Live?" I love using literature to explore moral complexity and expand our moral imaginations, and Frankenstein is one of my favorites, so I hope you'll join me!